The Opera House with Choclair
2001-11-02
Friday November 02 2001
The Opera House with Choclair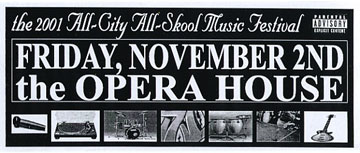 Additional Acts: Talksic
Ticket Price: $10 at the door
Set List: GreenRoot / Saturn / C / Gratefully Nowhere / The Flower Song / Girl Next Door / Fast Funk / Swimming In Chlorine / Weather
Set Length: 50 minutes from 11:40pm - 12:30
Rough Attendance: 650 - 700 at the peak of Zygote's set, but 850 total over the evening.
Caught on tape? no
Poster: Promoter-designed flyers

Notes: Zygote KILLED it tonight. We were invited by the promoter to play the 2001 All-City All-Skool Music Festival, a daring mix of hip hop and live music. The blend found us playing to a mixed crowd featuring tons of our fans plus a whole new crop of faces unfamiliar to the band. Zygote's set was the highlight of the night, hands down. The sound was very good by Opera House standards, the lights were off the hook, the crowd was eclectic and electric, and the band was simply EXPLOSIVE.

Zygote's set opened with an extended percussive groove from the rhythm section that suddenly skidded into the opening surge of Greenroot, cracking the set into high gear and launching the dancefloor into a frenzy of activity. Spurred on by the manic energy of the crowd, the band gave back everything they had and then some. Tons of bright spots tonight, including the above-mentioned GreenRoot, a fresh and vibrant rendition of the Flower Song (which we haven't seen in a while), and a huge and ugly version of Girl Next Door that showcased its grinding rhythm, amazing vocals, and Shlag's thunderous percussion outro. The Star Of The Show Award (according to our panel of judges) goes to Jer tonight for eyebrow-raising vocals, bullseye harmonies with Amir, and inspiring audience interaction.

The fans, the fans, the fans. You guys never let us down and we will do everything in our power to treat you right. Thank you all.

The only disappointment about this set was that it was too short for my taste. At roughly 50 minutes (the halfway point of a typical 'Goteshow), the band was still flying along at full tilt, obviously cramming as much life as possible into their humble timeslot. Set-closer Weather boiled on the horizon then exploded into a ferocious finale, crowd at a frenzy in front of the stage.

As soon as the set ended we scrambled to move our gear off for the hip-hop action that was following our set. Strange - we're not used to breaking down quickly but I think the crew did a great job (yo yo, shout outs to B-Kap, S-Poppa-D, Cousin A, and Pro-Zach) considering that the wings were thronged with MCs and various entourage members. They seemed a bit thrown off by our equipment issues - I guess at your typical rap show there's not much more than a handoff of microphones... If you didn't stick around for the rest of the evening, you missed what will go down in history as the first (and probably final) Booty Contest at an event that Zygote is part of. Chicks really dig this? Hey, maybe it just ain't my thing.....

Taken all together, a great show. We'll be in a good mood for a while over this one.

FAN COMMENTS

Holy Fuck is all that comes to mind my friends, Holy Fuck. By far, it was one of the craziest shows, it might have been the fact that I was right there in the first row, or maybe because it's my first 'Gote show without any sort of inebriation so far, but jesus, it was amazing. I didn't find one single fault in the entire night. Ovakim's solos in the Flower Song were incredible, the Flower Song altogether was bloody incredible. Aaron's random LaBamba tease was hilarious, the way Jeremy was laughing and then Amir taking it into the song as though it was written in. I must commend you on the show. Abso-fuckin'-lutely incredible. ~Josh K.

As always Zygote was absolutely amazing! The crowd seemed really into all songs including the newbies.  My only complaint was that Zygote was only on for an hour, but hey it was still sick.  Swimming in Chlorine seemed to get a huge response from where I was, which happened to be dead smack in the middle.  Also the Flower Song was great and was a good change from the usual.  All in all, great fucking show! 'Nuff said, till next time... ~Jake R.

---
Friday, February 3rd, 2006 : Come In From The Cold at The Opera House
Friday, March 15th, 2002 : The Rivoli
Friday, March 1st, 2002 : Havoc in Hamilton VI at The Hudson
Wednesday, February 20th, 2002 : Rafter's Pub in Sudbury
Friday, February 8th, 2002 : Feel The Love: Pre-Valentine's Day Bash at The Opera House
Saturday, December 8th, 2001 : Call The Office in London
Friday, December 7th, 2001 : The Hudson in Hamilton
Saturday, November 24th, 2001 : Kool HaĆ¼s with Big Sugar
Friday, November 23rd, 2001 : The Trasheteria in Peterborough
Thursday, November 22nd, 2001 : The Foundation in Barrie
Thursday, November 8th, 2001 : The Shot in Kingston
Friday, November 2nd, 2001 : The Opera House with Choclair
Saturday, October 27th, 2001 : The Cage in Oakville
Friday, October 26th, 2001 : The Hudson in Hamilton
Friday, October 19th, 2001 : The Capitol Theatre
Saturday, September 8th, 2001 : The Opera House
Friday, August 10th, 2001 : Molson Amphitheatre with Dave Matthews Band
Saturday, July 28th, 2001 : The Hudson in Hamilton
Thursday, July 26th, 2001 : Club Abstract in Kitchener with See Spot Run
Saturday, July 21st, 2001 : Lees Palace
Friday, July 13th, 2001 : Woodstick Festival at Kee to Bala
Friday, July 6th, 2001 : Two Tales II at the Comfort Zone
Friday, June 8th, 2001 : NXNE at The Reverb
Friday, May 4th, 2001 : In Concert at The Warehouse
Friday, April 6th, 2001 : Federation Hall at U o f Waterloo
Saturday, February 17th, 2001 : Lees Palace
Friday, January 19th, 2001 : The Opera House
Saturday, January 13th, 2001 : The Embassy in London
Friday, January 12th, 2001 : The Hudson in Hamilton
Friday, November 17th, 2000 : Zygote Into The Fray at The Rivoli
Saturday, November 11th, 2000 : The Haunt in Ithaca NY
Friday, October 6th, 2000 : In Concert at The Opera House
Saturday, September 2nd, 2000 : Two Tales at The Rivoli
Saturday, July 29th, 2000 : The Rivoli
Sunday, July 16th, 2000 : Molson Indy
Saturday, June 17th, 2000 : The Rivoli
Thursday, June 8th, 2000 : NXNE 2000 at Clintons Tavern
Saturday, May 20th, 2000 : All Ages at The Comfort Zone
Thursday, May 18th, 2000 : Rock Search 2000 at Front 54 in Thorold
Friday, April 21st, 2000 : The Rivoli
Friday, April 21st, 2000 : La Luna in Hamilton
Sunday, March 26th, 2000 : Whiskey Joes in Hamilton with The Headstones
Friday, March 17th, 2000 : St Patricks Day Bash at The Rivoli
Thursday, March 2nd, 2000 : Canadian Music Week at The 360
Saturday, February 12th, 2000 : The Rivoli
Saturday, January 22nd, 2000 : The Hudson in Hamilton
Saturday, November 6th, 1999 : The Opera House with Wide Mouth Mason
Saturday, October 16th, 1999 : The Rivoli
Friday, September 3rd, 1999 : The Rivoli
Friday, July 23rd, 1999 : The Reverb
Saturday, June 26th, 1999 : The Rivoli CD Release
Friday, May 21st, 1999 : The Rivoli
Friday, April 30th, 1999 : The Rivoli
Thursday, April 15th, 1999 : The Reverb
Saturday, December 5th, 1998 : The Rivoli
Thursday, November 19th, 1998 : The Gordon Best Theatre Peterborough
Friday, October 9th, 1998 : The Comfort Zone
Friday, October 2nd, 1998 : The Horseshoe Tavern
Saturday, September 5th, 1998 : The Horseshoe Tavern
Saturday, July 11th, 1998 : The Comfort Zone
Saturday, May 30th, 1998 : The Regency Hotel
Friday, May 29th, 1998 : The Comfort Zone
Saturday, May 23rd, 1998 : The Opera House with The Headstones
Saturday, May 23rd, 1998 : The Big Bop
Thursday, May 14th, 1998 : Lees Palace with Humphat
Saturday, May 2nd, 1998 : The Comfort Zone
Saturday, April 18th, 1998 : El Mocambo Upstairs
Thursday, April 16th, 1998 : Unplugged at The Silver Dollar with Brian Gladstone
Friday, March 20th, 1998 : The Big Bop
Friday, February 6th, 1998 : The 360
Saturday, January 31st, 1998 : Call The Office London with Zuuls Evil Disco
Friday, October 31st, 1997 : Halloween at The Original Six Sports Bar
Friday, October 17th, 1997 : El Mocambo
Friday, June 6th, 1997 : The Generator w Ron Hawkins of Lowest of the Low
Friday, May 23rd, 1997 : The Comfort Zone
Friday, April 25th, 1997 : The Comfort Zone
Saturday, March 29th, 1997 : The 360 with Black Cabbage
Saturday, March 15th, 1997 : AE Pi Frat Party at The Reverb
Friday, January 31st, 1997 : The Comfort Zone with Andru Branch
Saturday, January 25th, 1997 : The Warehouse with Fishbone
Thursday, January 23rd, 1997 : Red Dog Tavern Peterborough with Tied To The Tracks
Monday, November 4th, 1996 : The Horseshoe Tavern
Friday, September 27th, 1996 : The Generator
Saturday, July 27th, 1996 : The Honey Pot
Saturday, June 8th, 1996 : El Mocambo
Friday, April 5th, 1996 : El Mocambo
Friday, October 7th, 1994 : The Opera House with Infinity
Thursday, June 23rd, 1994 : Classic Studios
Friday, June 10th, 1994 : The Shamrock
Saturday, May 8th, 1993 : Rock n Roll Challenge II at The Spectrum


23/06/01