Two Tales at The Rivoli
2000-09-02
Saturday Sept 2 2000
The Rivoli: Two Tales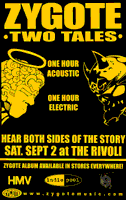 Additional Acts: Hooky
Ticket Price: $7 at the door
Set List: Acoustic Set:Two Tales / Single / GreenRoot (with Pink Floyd's Wish You Were Heretease) / Gratefully Nowhere / Ladies / Neil Young's Needle And The Damage Done/ Silver Gypsy Electric Set:Moot (with Metallica's Enter Sandmantease) / Kousharee / Static / Nejuan / Saturn / The Flower Song / Swimming In Chlorine / Biz / Weather (with Rage Against The Machine Freedomtease)
Set Length: 2 hours, from 11:30 - 1:30am
Rough Attendance: 170-190
Caught on tape? Yup. We got the whole thing on both board mix and ambient DAT. Pending mixing and review, the whole thing may be available for your listening pleasure real soon.
Poster:Two Tales Angel/Devil poster
Notes: Zygote: Two Tales! This was the big Acoustic/Electric show that we've been working on for weeks and weeks. Strangely enough, nearly everything that we wanted to happen for this show actually ended up happening. The band played two diverse and excellent sets of old-school and new-school material, the stage had a distinct setup and lighting scheme for each set, we unveiled a new line of Zygote-brand bootleg-style clothing that got rave reviews, we held The Sets-Change Operation contest which was a big success (The winner was one Ben Bessner, with a brilliant 12 out of 13 correct answers), and we recorded both sets for posterity in two formats. Add that to the fact that the crowd was bumpin' and jumpin' more than ever before, and the fact that Zygote pretty much filled the entire room alone, and you have yourself one kickass little shindig. I'll split the rest of this review into its component sections for your reading convenience.

The Acoustic Set

Zygote opened the set with a pretty straightforward translation of Two Tales to set the pace, then promptly settled into a broken-down version of Single that featured a syrupy slide-guitar effort by Ovakim. Two of the band's newer (and usually heavier) songs, GreenRoot and Gratefully Nowhere followed with some sweet harmonies from Jer and Amir, and the band reached WAY back into its repertoire to unveil Ladies, which may have been the best song of the acoustic set. A minimalist rendition of Neil Young's Needle And The Damage Done was handsomely played by Jeremy and Aaron, and the acoustic set drew to a close with the much-anticipated and rarely played Silver Gypsy. The acoustic set was overall really good (and occasionally incredible) with some nice re-arrangement and new sounds incorporated into the mix, but it dragged in places and with all the instrument-switching going on there was some level problems here and there.

Brian's Drum Solo. I'm afraid that I didn't get a chance to pay much attention to this set-change featurette, since I was hauling ass around the Rivoli trying to take care of a billion things at once. I await audience reaction on this one.

The Electric Set

This one rocked. Even during the acoustic set you could feel the band itching to crank up the volume and get the place shaking. It wasn't until the band thundered into Moot via a quick Enter Sandman tease and blistering percussion cascade from Shlag and Brian that the room really felt like home. Kousharee followed with what may have been the sweetest solo that Ovakim has ever played - I can't wait to hear it on tape again. The rest of the set was great as well, but Amir seemed to be having a little trouble with his bass rig. This set featured not one but TWO interrupted songs - once during Static (Ovakim's fault) and once during Swimming in Chlorine. (Jeremy's fault) Saturn is apparently an underground favorite among the fans. As soon as Aaron staggered into the opening riff, the crowd erupted into chaos. The Flower Song was back in top form at its spontaneous best, with a new "Ya Just Can't Fuck With The 'Gote" chant rearing its ugly head and an unforced progression through (as Brian refers to them) some skanky Ragamuffin Beats. S.I.C., usually a favorite, was a little weak this time around. I caught several mistakes from the band during this song alone. The set thundered to a close with a smart album-faithful version of Biz that brought Shlag to the front of the stage for a furious flurry of Djembe chaos and a trick-ending Weather that brought the house down.

A bit of bad news: While we were in a restaurant on Spadina stuffing ourselves with post-gig Chinese food, some asshole (or assholes) busted into my car and stole a shitload of our equipment and some personal stuff. Among the personal stuff was my camera, which contains all the pictures I took at this show. Sorry folks, no snaps on this one.

FAN COMMENTS

I must say that I am still in awe of the amazing display of raw talent that was set before my eyes and ears four score ago.

Translation: "HOLY FUCKIN' SHIT!!"

With the summer coming to a close and friends re-uniting after a brief separation, the lights dimmed and the audience settled in for an evening of grandeur.

Translation: "We Were Pumped!!"

A tremendous roar bellowed from the audience as their heroes glided across the stage and took their instruments to arms, and their music to our ears.
The mood was set with harmony and grace from the acoustic arrangement. The band played as one and their talent as a group soared to new heights.

Translation: "YOU JUST CAN'T FUCK WITH THE 'GOTE!!"

As the force left the stage after their first brush with the audience magic filled the air. The lights suddenly flickered and a slight breeze blew over the back of my neck. The air was sweeter now as the stage was transformed into a glittering spectacular Heaven. Once again the lights dimmed with just the faint glow of a fiery red light illuminating the back of the stage where one man would single-handedly entertain the crowd. Where his royal highness would perch and look down on his people and give unto them what they so desperately had yearned for. A display of his ultimate power. With a tip of his hat and quick flick of the wrist he began. Lord Brian played his drums with such fury and precision that a funny feeling came over me as I watched. Slowly the rest of the troupe gathered on stage surrounding the great power to feed from and re-charge him. Then without hint or preview the one known as Shlag began his hypnotic bongo beat and we all knew that we were about to "Meet Moot". The feeling inside me grew stronger as the anticipation for Moot overflowed. "I want my Moot.....I want my Moot" chanted my veins. Then, I met Moot, and what a glorious thing it was. My body pulsated and jived all over the dance floor. Uncontrolled movement from my soul had taken control of my physical being and then another funny thing happened. It stopped, my body twitched and....

Translation: "...I shat my underwear."

Feeling a little disappointed in the lack of control of my own body functions and not to mention a little embarrassed, I disregarded the little fiasco and proceeded to enjoy the rest of the show. ~Lee K.



The show was exceptional. I don't think ive ever seen the men play so well. Especially SHLAG, he put a show on. Thanx man. to Josh--> WELL DONE. Organization skills run through your blood. To the band members. BRIAN-if you played rolls on your kit like that at every show, I have a feeling that you really would be drummin' for James Brown. Amir, you must be a real ladies' man-very fast hands!! Aaron, i don't know if Aaron has arms, they move too fast to see them. Also, let me say that you look fuckin' GREAT!! You must have lost a lot of weight!! Congrats. Jeremy still sweats a lot, but never misses a note - Also the acoustic show was done especially well on your part.
Thanx guys, keep it up!! ~Zach S.



---
Friday, February 3rd, 2006 : Come In From The Cold at The Opera House
Friday, March 15th, 2002 : The Rivoli
Friday, March 1st, 2002 : Havoc in Hamilton VI at The Hudson
Wednesday, February 20th, 2002 : Rafter's Pub in Sudbury
Friday, February 8th, 2002 : Feel The Love: Pre-Valentine's Day Bash at The Opera House
Saturday, December 8th, 2001 : Call The Office in London
Friday, December 7th, 2001 : The Hudson in Hamilton
Saturday, November 24th, 2001 : Kool Haüs with Big Sugar
Friday, November 23rd, 2001 : The Trasheteria in Peterborough
Thursday, November 22nd, 2001 : The Foundation in Barrie
Thursday, November 8th, 2001 : The Shot in Kingston
Friday, November 2nd, 2001 : The Opera House with Choclair
Saturday, October 27th, 2001 : The Cage in Oakville
Friday, October 26th, 2001 : The Hudson in Hamilton
Friday, October 19th, 2001 : The Capitol Theatre
Saturday, September 8th, 2001 : The Opera House
Friday, August 10th, 2001 : Molson Amphitheatre with Dave Matthews Band
Saturday, July 28th, 2001 : The Hudson in Hamilton
Thursday, July 26th, 2001 : Club Abstract in Kitchener with See Spot Run
Saturday, July 21st, 2001 : Lees Palace
Friday, July 13th, 2001 : Woodstick Festival at Kee to Bala
Friday, July 6th, 2001 : Two Tales II at the Comfort Zone
Friday, June 8th, 2001 : NXNE at The Reverb
Friday, May 4th, 2001 : In Concert at The Warehouse
Friday, April 6th, 2001 : Federation Hall at U o f Waterloo
Saturday, February 17th, 2001 : Lees Palace
Friday, January 19th, 2001 : The Opera House
Saturday, January 13th, 2001 : The Embassy in London
Friday, January 12th, 2001 : The Hudson in Hamilton
Friday, November 17th, 2000 : Zygote Into The Fray at The Rivoli
Saturday, November 11th, 2000 : The Haunt in Ithaca NY
Friday, October 6th, 2000 : In Concert at The Opera House
Saturday, September 2nd, 2000 : Two Tales at The Rivoli
Saturday, July 29th, 2000 : The Rivoli
Sunday, July 16th, 2000 : Molson Indy
Saturday, June 17th, 2000 : The Rivoli
Thursday, June 8th, 2000 : NXNE 2000 at Clintons Tavern
Saturday, May 20th, 2000 : All Ages at The Comfort Zone
Thursday, May 18th, 2000 : Rock Search 2000 at Front 54 in Thorold
Friday, April 21st, 2000 : The Rivoli
Friday, April 21st, 2000 : La Luna in Hamilton
Sunday, March 26th, 2000 : Whiskey Joes in Hamilton with The Headstones
Friday, March 17th, 2000 : St Patricks Day Bash at The Rivoli
Thursday, March 2nd, 2000 : Canadian Music Week at The 360
Saturday, February 12th, 2000 : The Rivoli
Saturday, January 22nd, 2000 : The Hudson in Hamilton
Saturday, November 6th, 1999 : The Opera House with Wide Mouth Mason
Saturday, October 16th, 1999 : The Rivoli
Friday, September 3rd, 1999 : The Rivoli
Friday, July 23rd, 1999 : The Reverb
Saturday, June 26th, 1999 : The Rivoli CD Release
Friday, May 21st, 1999 : The Rivoli
Friday, April 30th, 1999 : The Rivoli
Thursday, April 15th, 1999 : The Reverb
Saturday, December 5th, 1998 : The Rivoli
Thursday, November 19th, 1998 : The Gordon Best Theatre Peterborough
Friday, October 9th, 1998 : The Comfort Zone
Friday, October 2nd, 1998 : The Horseshoe Tavern
Saturday, September 5th, 1998 : The Horseshoe Tavern
Saturday, July 11th, 1998 : The Comfort Zone
Saturday, May 30th, 1998 : The Regency Hotel
Friday, May 29th, 1998 : The Comfort Zone
Saturday, May 23rd, 1998 : The Opera House with The Headstones
Saturday, May 23rd, 1998 : The Big Bop
Thursday, May 14th, 1998 : Lees Palace with Humphat
Saturday, May 2nd, 1998 : The Comfort Zone
Saturday, April 18th, 1998 : El Mocambo Upstairs
Thursday, April 16th, 1998 : Unplugged at The Silver Dollar with Brian Gladstone
Friday, March 20th, 1998 : The Big Bop
Friday, February 6th, 1998 : The 360
Saturday, January 31st, 1998 : Call The Office London with Zuuls Evil Disco
Friday, October 31st, 1997 : Halloween at The Original Six Sports Bar
Friday, October 17th, 1997 : El Mocambo
Friday, June 6th, 1997 : The Generator w Ron Hawkins of Lowest of the Low
Friday, May 23rd, 1997 : The Comfort Zone
Friday, April 25th, 1997 : The Comfort Zone
Saturday, March 29th, 1997 : The 360 with Black Cabbage
Saturday, March 15th, 1997 : AE Pi Frat Party at The Reverb
Friday, January 31st, 1997 : The Comfort Zone with Andru Branch
Saturday, January 25th, 1997 : The Warehouse with Fishbone
Thursday, January 23rd, 1997 : Red Dog Tavern Peterborough with Tied To The Tracks
Monday, November 4th, 1996 : The Horseshoe Tavern
Friday, September 27th, 1996 : The Generator
Saturday, July 27th, 1996 : The Honey Pot
Saturday, June 8th, 1996 : El Mocambo
Friday, April 5th, 1996 : El Mocambo
Friday, October 7th, 1994 : The Opera House with Infinity
Thursday, June 23rd, 1994 : Classic Studios
Friday, June 10th, 1994 : The Shamrock
Saturday, May 8th, 1993 : Rock n Roll Challenge II at The Spectrum


23/09/22