The Rivoli
2000-06-17
Saturday June 17 2000
97.7 Presents Zygote at The Rivoli

Additional Acts: Puddy, Vent 508
Ticket Price: $7 at the door or you could've won free passes by listening to 97.7
Set List: Two Tales / Meet Moot->Britney Spears' "Hit Me Baby One More Time"->Moot / Nejuan / Static / Kousharee / GreenRoot / The Flower Song / New One / Gratefully Nowhere / Biz / Swimming In Chlorine / Weather
Set Length: 1 hour, 20 min from 12:10 - 1:30am
Rough Attendance: 130 - 150
Caught on tape? Yup, it's in Josh's library
Poster: Full-colour Flower Man/Puddy Devil combination
Notes: A great show by musical standards, but it fell short in a few other categories. We were very surprised by the lacklustre attendance on this one - usually our Rivoli shows leave little room for you to move around. This show was promoted by 97.7 Hits fm and we had pretty solid radio, print, poster, and e-mail support, so we were all a bit shell-shocked when the place wasn't overflowing with people. What can you do though, the show must go on.....

A word on Puddy.....if you dig heavy music and you ever get a chance to see these guys, SEE THESE GUYS. They have an incredible wall-of-sound texture and they put out enough energy in the course of their set to light up the Eastern Seaboard. Cool easygoing guys, too. We look forward to playing with them again in the future.

The SOUND. (Judging from the e-mails I get, there's a miniature subculture of fans out there who actually discuss this amongst themselves, which is either kind of cool or kind of nerdish. Here's my say...you nerds) Although we didn't have the support of regular Rivoli man Ron OR Soundman Steve, we had new guy Nick behind the board and he acquitted himself rather well. He adjusted quickly to Zygote's feel, and the sound grew sharper and more confident over the course of the set. I thought Ovakim's guitar was a bit too quiet for most of the night, but that may be a personal preference. The kick drum was definitely too quiet, leeching some of the bottom end away from the music. Shlag was better miked than usual, and the vocal mix was just about perfect. (except for a horrid case of reverb during S.I.C. that I take the blame for. So sue me.)

The performance itself was pretty cool. The band was tight and crackling, and despite the size of the crowd, all 130 were up by the stage movin'. Cousin A worked a VERY cool lighting routine that helped drive the beat home. I caught very few mistakes from the band tonight, (and I catch 'em all) and a lot of the songs had a relaxed, improvvy feel, with band members laughing and moving to each other to suggest ideas.

High points of the evening: Do I have to say it? The Flower Song. Whoa momma. First of all, Aaron went INSANE, battling a whirlwhind of notes from his guitar like I've never seen before. The dude was whipping his guitar all over the place to catch all the bends and roars - I thought he was going to drop it a few times, but he stayed on rhythm and kept up the frantic pace. As well the song went through a number of stylistic motifs - at one point it busted into a jungle-style segment that had Amir ad-libbing (expertly) mile-a-minute vocals in junglist format. Shlag had a nifty run during the breakdown in Biz where he coaxed sounds from his congas not usually heard over the din - a welcome treat.

Overall the night was pretty damn good. I got comments from some fans that said it was the best they'd ever seen Zygote play. Not too shabby.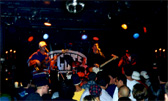 ---
Friday, February 3rd, 2006 : Come In From The Cold at The Opera House
Friday, March 15th, 2002 : The Rivoli
Friday, March 1st, 2002 : Havoc in Hamilton VI at The Hudson
Wednesday, February 20th, 2002 : Rafter's Pub in Sudbury
Friday, February 8th, 2002 : Feel The Love: Pre-Valentine's Day Bash at The Opera House
Saturday, December 8th, 2001 : Call The Office in London
Friday, December 7th, 2001 : The Hudson in Hamilton
Saturday, November 24th, 2001 : Kool Haüs with Big Sugar
Friday, November 23rd, 2001 : The Trasheteria in Peterborough
Thursday, November 22nd, 2001 : The Foundation in Barrie
Thursday, November 8th, 2001 : The Shot in Kingston
Friday, November 2nd, 2001 : The Opera House with Choclair
Saturday, October 27th, 2001 : The Cage in Oakville
Friday, October 26th, 2001 : The Hudson in Hamilton
Friday, October 19th, 2001 : The Capitol Theatre
Saturday, September 8th, 2001 : The Opera House
Friday, August 10th, 2001 : Molson Amphitheatre with Dave Matthews Band
Saturday, July 28th, 2001 : The Hudson in Hamilton
Thursday, July 26th, 2001 : Club Abstract in Kitchener with See Spot Run
Saturday, July 21st, 2001 : Lees Palace
Friday, July 13th, 2001 : Woodstick Festival at Kee to Bala
Friday, July 6th, 2001 : Two Tales II at the Comfort Zone
Friday, June 8th, 2001 : NXNE at The Reverb
Friday, May 4th, 2001 : In Concert at The Warehouse
Friday, April 6th, 2001 : Federation Hall at U o f Waterloo
Saturday, February 17th, 2001 : Lees Palace
Friday, January 19th, 2001 : The Opera House
Saturday, January 13th, 2001 : The Embassy in London
Friday, January 12th, 2001 : The Hudson in Hamilton
Friday, November 17th, 2000 : Zygote Into The Fray at The Rivoli
Saturday, November 11th, 2000 : The Haunt in Ithaca NY
Friday, October 6th, 2000 : In Concert at The Opera House
Saturday, September 2nd, 2000 : Two Tales at The Rivoli
Saturday, July 29th, 2000 : The Rivoli
Sunday, July 16th, 2000 : Molson Indy
Saturday, June 17th, 2000 : The Rivoli
Thursday, June 8th, 2000 : NXNE 2000 at Clintons Tavern
Saturday, May 20th, 2000 : All Ages at The Comfort Zone
Thursday, May 18th, 2000 : Rock Search 2000 at Front 54 in Thorold
Friday, April 21st, 2000 : The Rivoli
Friday, April 21st, 2000 : La Luna in Hamilton
Sunday, March 26th, 2000 : Whiskey Joes in Hamilton with The Headstones
Friday, March 17th, 2000 : St Patricks Day Bash at The Rivoli
Thursday, March 2nd, 2000 : Canadian Music Week at The 360
Saturday, February 12th, 2000 : The Rivoli
Saturday, January 22nd, 2000 : The Hudson in Hamilton
Saturday, November 6th, 1999 : The Opera House with Wide Mouth Mason
Saturday, October 16th, 1999 : The Rivoli
Friday, September 3rd, 1999 : The Rivoli
Friday, July 23rd, 1999 : The Reverb
Saturday, June 26th, 1999 : The Rivoli CD Release
Friday, May 21st, 1999 : The Rivoli
Friday, April 30th, 1999 : The Rivoli
Thursday, April 15th, 1999 : The Reverb
Saturday, December 5th, 1998 : The Rivoli
Thursday, November 19th, 1998 : The Gordon Best Theatre Peterborough
Friday, October 9th, 1998 : The Comfort Zone
Friday, October 2nd, 1998 : The Horseshoe Tavern
Saturday, September 5th, 1998 : The Horseshoe Tavern
Saturday, July 11th, 1998 : The Comfort Zone
Saturday, May 30th, 1998 : The Regency Hotel
Friday, May 29th, 1998 : The Comfort Zone
Saturday, May 23rd, 1998 : The Opera House with The Headstones
Saturday, May 23rd, 1998 : The Big Bop
Thursday, May 14th, 1998 : Lees Palace with Humphat
Saturday, May 2nd, 1998 : The Comfort Zone
Saturday, April 18th, 1998 : El Mocambo Upstairs
Thursday, April 16th, 1998 : Unplugged at The Silver Dollar with Brian Gladstone
Friday, March 20th, 1998 : The Big Bop
Friday, February 6th, 1998 : The 360
Saturday, January 31st, 1998 : Call The Office London with Zuuls Evil Disco
Friday, October 31st, 1997 : Halloween at The Original Six Sports Bar
Friday, October 17th, 1997 : El Mocambo
Friday, June 6th, 1997 : The Generator w Ron Hawkins of Lowest of the Low
Friday, May 23rd, 1997 : The Comfort Zone
Friday, April 25th, 1997 : The Comfort Zone
Saturday, March 29th, 1997 : The 360 with Black Cabbage
Saturday, March 15th, 1997 : AE Pi Frat Party at The Reverb
Friday, January 31st, 1997 : The Comfort Zone with Andru Branch
Saturday, January 25th, 1997 : The Warehouse with Fishbone
Thursday, January 23rd, 1997 : Red Dog Tavern Peterborough with Tied To The Tracks
Monday, November 4th, 1996 : The Horseshoe Tavern
Friday, September 27th, 1996 : The Generator
Saturday, July 27th, 1996 : The Honey Pot
Saturday, June 8th, 1996 : El Mocambo
Friday, April 5th, 1996 : El Mocambo
Friday, October 7th, 1994 : The Opera House with Infinity
Thursday, June 23rd, 1994 : Classic Studios
Friday, June 10th, 1994 : The Shamrock
Saturday, May 8th, 1993 : Rock n Roll Challenge II at The Spectrum


23/09/22