In Concert at The Warehouse
2001-05-04
Friday May 4 2001
The Warehouse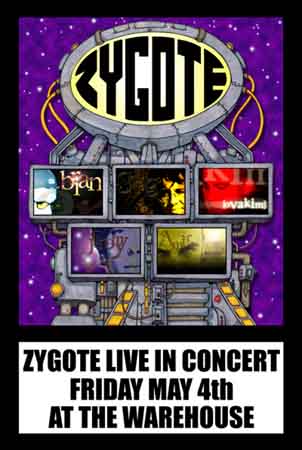 Additional Acts: superGarage, Liveonrelease, Wisconsin
Ticket Price: $10 advance through TicketMaster or at the door
Set List: Gratefully Nowhere with underwater intro / Biz / Two Tales / C / New Song #1 / GreenRoot (acoustic intro) / The Flower Song with "Silver Gypsy" plug / Meet Moot --> Moot / Alice In Chains' "Man In The Box" --> Static / Kousharee with extended drum & percussion solo / New Song #2 / Camouflage / Nejuan (with Sneaker Pimps' "Six Feet Underground" plug) / Swimming In Chlorine / Weather
Set Length: 1.5 hours, from 11:30 - 1am
Rough Attendance: 900 - 1000
Caught on tape? tons of video footage and still photgraphy
Poster: huge and colourful searchlight poster and accompanying handbill
Notes: This show ended up being a mixed bag in terms of our final reaction to it. Although Zygote drew the largest crowd they've ever played in front of, it didn't really FEEL like it in the cavernous depths of the Warehouse. Although the band churned out a remarkably energetic performance in a set filled with goodies and altered arrangements, much of the dynamic and vibe was lost to the absolutely terrible sound we encountered. The fist ten rows or so of fans report that the sound was good, but everyone else in the room was drowned in bottom-end echo. Yecch. Nature of the beast, I guess. Things levelled out a bit by the final third of the set, but never really enough for the whole room to appreciate the sizzling guitars, precise harmonies, and crisp drum patterns that the 'Gote was delivering all night long.

The performance by the band was high-voltage and raucous, with a crazy legion of fans hugging the guardrail and egging the band further into musical madness. Jer in particular had a great night, connecting with both the fans and his bandmates and delivering a spot-on vocal performance that began with a cool electronically-enhanced supervibrato. Shlag and Brian offered a new and electrifying percussion piece that was end-to-end creativity, showcasing for the first time some of the subtler tricks of their trade that normally are part of the background noise. The crowd was more into it than usual, with mad moshing, jumping, grooving, chanting, and general wackiness as far as the eye could see. At one point during the Flower Song, Amir started hauling fans up onto the stage, and the whole thing erupted into a surreal spectacle for a minute or two. Veeery funny stuff. A great performance overall which only got better as it progressed. By the time Weather blasted along, the crowd was at a fever pitch and the band was right there with them. This show should have been one for the record books, but we were honestly disappointed by the sound quality. A lesson learned the hard way.

---
Friday, February 3rd, 2006 : Come In From The Cold at The Opera House
Friday, March 15th, 2002 : The Rivoli
Friday, March 1st, 2002 : Havoc in Hamilton VI at The Hudson
Wednesday, February 20th, 2002 : Rafter's Pub in Sudbury
Friday, February 8th, 2002 : Feel The Love: Pre-Valentine's Day Bash at The Opera House
Saturday, December 8th, 2001 : Call The Office in London
Friday, December 7th, 2001 : The Hudson in Hamilton
Saturday, November 24th, 2001 : Kool Haüs with Big Sugar
Friday, November 23rd, 2001 : The Trasheteria in Peterborough
Thursday, November 22nd, 2001 : The Foundation in Barrie
Thursday, November 8th, 2001 : The Shot in Kingston
Friday, November 2nd, 2001 : The Opera House with Choclair
Saturday, October 27th, 2001 : The Cage in Oakville
Friday, October 26th, 2001 : The Hudson in Hamilton
Friday, October 19th, 2001 : The Capitol Theatre
Saturday, September 8th, 2001 : The Opera House
Friday, August 10th, 2001 : Molson Amphitheatre with Dave Matthews Band
Saturday, July 28th, 2001 : The Hudson in Hamilton
Thursday, July 26th, 2001 : Club Abstract in Kitchener with See Spot Run
Saturday, July 21st, 2001 : Lees Palace
Friday, July 13th, 2001 : Woodstick Festival at Kee to Bala
Friday, July 6th, 2001 : Two Tales II at the Comfort Zone
Friday, June 8th, 2001 : NXNE at The Reverb
Friday, May 4th, 2001 : In Concert at The Warehouse
Friday, April 6th, 2001 : Federation Hall at U o f Waterloo
Saturday, February 17th, 2001 : Lees Palace
Friday, January 19th, 2001 : The Opera House
Saturday, January 13th, 2001 : The Embassy in London
Friday, January 12th, 2001 : The Hudson in Hamilton
Friday, November 17th, 2000 : Zygote Into The Fray at The Rivoli
Saturday, November 11th, 2000 : The Haunt in Ithaca NY
Friday, October 6th, 2000 : In Concert at The Opera House
Saturday, September 2nd, 2000 : Two Tales at The Rivoli
Saturday, July 29th, 2000 : The Rivoli
Sunday, July 16th, 2000 : Molson Indy
Saturday, June 17th, 2000 : The Rivoli
Thursday, June 8th, 2000 : NXNE 2000 at Clintons Tavern
Saturday, May 20th, 2000 : All Ages at The Comfort Zone
Thursday, May 18th, 2000 : Rock Search 2000 at Front 54 in Thorold
Friday, April 21st, 2000 : The Rivoli
Friday, April 21st, 2000 : La Luna in Hamilton
Sunday, March 26th, 2000 : Whiskey Joes in Hamilton with The Headstones
Friday, March 17th, 2000 : St Patricks Day Bash at The Rivoli
Thursday, March 2nd, 2000 : Canadian Music Week at The 360
Saturday, February 12th, 2000 : The Rivoli
Saturday, January 22nd, 2000 : The Hudson in Hamilton
Saturday, November 6th, 1999 : The Opera House with Wide Mouth Mason
Saturday, October 16th, 1999 : The Rivoli
Friday, September 3rd, 1999 : The Rivoli
Friday, July 23rd, 1999 : The Reverb
Saturday, June 26th, 1999 : The Rivoli CD Release
Friday, May 21st, 1999 : The Rivoli
Friday, April 30th, 1999 : The Rivoli
Thursday, April 15th, 1999 : The Reverb
Saturday, December 5th, 1998 : The Rivoli
Thursday, November 19th, 1998 : The Gordon Best Theatre Peterborough
Friday, October 9th, 1998 : The Comfort Zone
Friday, October 2nd, 1998 : The Horseshoe Tavern
Saturday, September 5th, 1998 : The Horseshoe Tavern
Saturday, July 11th, 1998 : The Comfort Zone
Saturday, May 30th, 1998 : The Regency Hotel
Friday, May 29th, 1998 : The Comfort Zone
Saturday, May 23rd, 1998 : The Opera House with The Headstones
Saturday, May 23rd, 1998 : The Big Bop
Thursday, May 14th, 1998 : Lees Palace with Humphat
Saturday, May 2nd, 1998 : The Comfort Zone
Saturday, April 18th, 1998 : El Mocambo Upstairs
Thursday, April 16th, 1998 : Unplugged at The Silver Dollar with Brian Gladstone
Friday, March 20th, 1998 : The Big Bop
Friday, February 6th, 1998 : The 360
Saturday, January 31st, 1998 : Call The Office London with Zuuls Evil Disco
Friday, October 31st, 1997 : Halloween at The Original Six Sports Bar
Friday, October 17th, 1997 : El Mocambo
Friday, June 6th, 1997 : The Generator w Ron Hawkins of Lowest of the Low
Friday, May 23rd, 1997 : The Comfort Zone
Friday, April 25th, 1997 : The Comfort Zone
Saturday, March 29th, 1997 : The 360 with Black Cabbage
Saturday, March 15th, 1997 : AE Pi Frat Party at The Reverb
Friday, January 31st, 1997 : The Comfort Zone with Andru Branch
Saturday, January 25th, 1997 : The Warehouse with Fishbone
Thursday, January 23rd, 1997 : Red Dog Tavern Peterborough with Tied To The Tracks
Monday, November 4th, 1996 : The Horseshoe Tavern
Friday, September 27th, 1996 : The Generator
Saturday, July 27th, 1996 : The Honey Pot
Saturday, June 8th, 1996 : El Mocambo
Friday, April 5th, 1996 : El Mocambo
Friday, October 7th, 1994 : The Opera House with Infinity
Thursday, June 23rd, 1994 : Classic Studios
Friday, June 10th, 1994 : The Shamrock
Saturday, May 8th, 1993 : Rock n Roll Challenge II at The Spectrum


23/09/22