Zygote Into The Fray at The Rivoli
2000-11-17
Friday November 18 2000
Zygote: Into The Fray at The Rivoli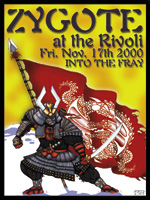 Additional Acts: Tallman, Jimmy's Groove
Ticket Price:$8 at the door
Set List:Gratefully Nowhere / Kousharee (with Vanilla Fudge's "Keep Me Hangin' On" tease and quirky solo) / Swimming In Chlorine / Biz / The Flower Song / Moot (with full-band percussion interlude) / Two Tales (with The Beatles' "She Came In Through The Bathroom Window" outro) / Camouflage / Nejuan / Single (slide version) / GreenRoot / Static / Weather
Set Length: 1 1/2 hours, from 12:50 - 1:20am
Rough Attendance: 230, a sellout
Caught on tape? Yes indeedy, it's in Josh's library. The entire show + soundcheck was also caught on video by the brilliantly talented videographer Steve Dveris. What a visionary - his skill at framing shots and capturing the essence of a live show is unparalleled, and his equipment is top-notch.
Stage Setup: NEW REVIEW CATEGORY! "Kung-Foolery" Me and Cousin A put together an elegant dojo-style theme to match the samurai poster, with white and red drapery backlit by blacklights framing the stage, chinese paper lanterns hanging from the ceiling, a starfield of white xmas lights floating above the heads of the band, and tables packed with candles and Dragon's Blood incense flanking the drum kits. Tallman was kind enough to let us use their smoke machine for added atmosphere, and Cousin A's lighting routine was well-choreographed as usual.
Poster: Hoo mama. Zygote's biggest and best, the unprecedented 18x24 full-colour samurai masterpiece. We gave out 50 free copies at the show.
Notes: I will start off my saying that in my humble opinion, this was the best Zygote show of all time. Not that the sound was perfect or that the band played without any mistakes, but that the energy level in the room was so high the hairs on the back of my neck were standing up all night. It was madness in there. First of all, it was packed. PACKED. It took me ten minutes to elbow my way into the heart of the crowd, and I still couldn't get any closer than twenty feet from the stage. The band was at the top of their game performance-wise, giving everything they had and getting it right back from the audience. There was actually crowd-surfing going on later in the set, and to top it all off two dudes jumped on stage and helped Amir and Jer belt out the final chorus to Weather. The band was really alive, I can't get over it. From start to finish, more energy and vigor than I've ever seen. I was floored, and let me tell you I've been to a LOT of Zygote shows.

Opening acts were great tonight. Jimmy's Groove put on a solid set for the early crowd, performing their typically eclectic mix of influences that meshes well with Zygote's sound. Tallman was a lot heavier than I'd expected but they carry their weight well and I was thrilled to finally meet another Toronto band that puts some effort into stage setup. (Sid Six and The Hellz Kitchen Show being the only others we've encountered so far)

Let me run through the high points, although there were really too many for me to list here.
- Gratefully Nowhere. First time Zygote has opened a set with GN, and it's got a lot of potential in the pole position. Gives the band a lot of opportunity to start things on a very energetic note.
- The "Keep Me Hangin' On" tease in Kousharee went over surprisingly well. Although brief, I noticed that most of the crowd was singing along. Very cool, and a nice step into Motown territory.
- The Flower Song. CRAZY. This giant morphing monster of a song has sprouted new sections and segments to the point where anything can happen. This time around Jer adapted the Flower storyline to sort of meet an experience we had at a chinese restaurant in Ithaca. The song raged through several themes, finally dwindled and was ready to end when it was actually rekindled by THE CROWD chanting "Ya Just Can't Fuck With The 'Gote" in rhythm. Up to the challenge, the band exploded back into life and kept the intensity up to finally end it with Amir bellowing the chant at a fever pitch. Great version.
- The percussion interlude in Moot. This time Shlag and Brian's intricate drum piece was added to by Jer on shakers and Amir on a cowbell, providing for whole new layers of rhythm. Very very cool, got my dancin' shoes in working order. (Plus Amir actually fumbled the stick he was using to strike the cowbell and dropped it, meaning that he can never ever make fun of Shlaggy again.)
- The final three songs of the set. GreenRoot, Static and Weather. Quite a trio. Perfect harmonies, changes and punctuation NAILED on every count, Ovakim FREAKING out in his own little guitar world, and more manic insanity from the entire band (specifically Jeremy) and the crowd than I have ever seen at a Zygote show. I've already gone over the "two dudes onstage" bit earlier in the review, but let me tell you I was DELIGHTED to see such hijinks. THIS IS NOT AN OPEN INVITATION FOR ALL YOU MANIACS TO JUMP ONSTAGE AT FUTURE GIGS, SO DON'T GET ANY IDEAS. (During Weather, Shlag knocked a burning candle onto himself while fiddling with his Djembe. Maybe Amir can make fun of him after all.)

Overall, like I said, my favourite Zygote show of all time ever. I'm still smiling. Onward to bigger and better things....

FAN COMMENTS


Dear Zygote...
I see that it says you captured this most recent show on video, which was filmed by Steve Dveris. You have said that he did a great job and I must vouch for that... I have been watching the home porno movies he films of his sister for the past 8 years. I am always excited to see his next piece of work. Thanks for keeping him working.
~Mike H.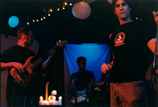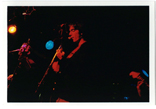 ---
Friday, February 3rd, 2006 : Come In From The Cold at The Opera House
Friday, March 15th, 2002 : The Rivoli
Friday, March 1st, 2002 : Havoc in Hamilton VI at The Hudson
Wednesday, February 20th, 2002 : Rafter's Pub in Sudbury
Friday, February 8th, 2002 : Feel The Love: Pre-Valentine's Day Bash at The Opera House
Saturday, December 8th, 2001 : Call The Office in London
Friday, December 7th, 2001 : The Hudson in Hamilton
Saturday, November 24th, 2001 : Kool Haüs with Big Sugar
Friday, November 23rd, 2001 : The Trasheteria in Peterborough
Thursday, November 22nd, 2001 : The Foundation in Barrie
Thursday, November 8th, 2001 : The Shot in Kingston
Friday, November 2nd, 2001 : The Opera House with Choclair
Saturday, October 27th, 2001 : The Cage in Oakville
Friday, October 26th, 2001 : The Hudson in Hamilton
Friday, October 19th, 2001 : The Capitol Theatre
Saturday, September 8th, 2001 : The Opera House
Friday, August 10th, 2001 : Molson Amphitheatre with Dave Matthews Band
Saturday, July 28th, 2001 : The Hudson in Hamilton
Thursday, July 26th, 2001 : Club Abstract in Kitchener with See Spot Run
Saturday, July 21st, 2001 : Lees Palace
Friday, July 13th, 2001 : Woodstick Festival at Kee to Bala
Friday, July 6th, 2001 : Two Tales II at the Comfort Zone
Friday, June 8th, 2001 : NXNE at The Reverb
Friday, May 4th, 2001 : In Concert at The Warehouse
Friday, April 6th, 2001 : Federation Hall at U o f Waterloo
Saturday, February 17th, 2001 : Lees Palace
Friday, January 19th, 2001 : The Opera House
Saturday, January 13th, 2001 : The Embassy in London
Friday, January 12th, 2001 : The Hudson in Hamilton
Friday, November 17th, 2000 : Zygote Into The Fray at The Rivoli
Saturday, November 11th, 2000 : The Haunt in Ithaca NY
Friday, October 6th, 2000 : In Concert at The Opera House
Saturday, September 2nd, 2000 : Two Tales at The Rivoli
Saturday, July 29th, 2000 : The Rivoli
Sunday, July 16th, 2000 : Molson Indy
Saturday, June 17th, 2000 : The Rivoli
Thursday, June 8th, 2000 : NXNE 2000 at Clintons Tavern
Saturday, May 20th, 2000 : All Ages at The Comfort Zone
Thursday, May 18th, 2000 : Rock Search 2000 at Front 54 in Thorold
Friday, April 21st, 2000 : The Rivoli
Friday, April 21st, 2000 : La Luna in Hamilton
Sunday, March 26th, 2000 : Whiskey Joes in Hamilton with The Headstones
Friday, March 17th, 2000 : St Patricks Day Bash at The Rivoli
Thursday, March 2nd, 2000 : Canadian Music Week at The 360
Saturday, February 12th, 2000 : The Rivoli
Saturday, January 22nd, 2000 : The Hudson in Hamilton
Saturday, November 6th, 1999 : The Opera House with Wide Mouth Mason
Saturday, October 16th, 1999 : The Rivoli
Friday, September 3rd, 1999 : The Rivoli
Friday, July 23rd, 1999 : The Reverb
Saturday, June 26th, 1999 : The Rivoli CD Release
Friday, May 21st, 1999 : The Rivoli
Friday, April 30th, 1999 : The Rivoli
Thursday, April 15th, 1999 : The Reverb
Saturday, December 5th, 1998 : The Rivoli
Thursday, November 19th, 1998 : The Gordon Best Theatre Peterborough
Friday, October 9th, 1998 : The Comfort Zone
Friday, October 2nd, 1998 : The Horseshoe Tavern
Saturday, September 5th, 1998 : The Horseshoe Tavern
Saturday, July 11th, 1998 : The Comfort Zone
Saturday, May 30th, 1998 : The Regency Hotel
Friday, May 29th, 1998 : The Comfort Zone
Saturday, May 23rd, 1998 : The Opera House with The Headstones
Saturday, May 23rd, 1998 : The Big Bop
Thursday, May 14th, 1998 : Lees Palace with Humphat
Saturday, May 2nd, 1998 : The Comfort Zone
Saturday, April 18th, 1998 : El Mocambo Upstairs
Thursday, April 16th, 1998 : Unplugged at The Silver Dollar with Brian Gladstone
Friday, March 20th, 1998 : The Big Bop
Friday, February 6th, 1998 : The 360
Saturday, January 31st, 1998 : Call The Office London with Zuuls Evil Disco
Friday, October 31st, 1997 : Halloween at The Original Six Sports Bar
Friday, October 17th, 1997 : El Mocambo
Friday, June 6th, 1997 : The Generator w Ron Hawkins of Lowest of the Low
Friday, May 23rd, 1997 : The Comfort Zone
Friday, April 25th, 1997 : The Comfort Zone
Saturday, March 29th, 1997 : The 360 with Black Cabbage
Saturday, March 15th, 1997 : AE Pi Frat Party at The Reverb
Friday, January 31st, 1997 : The Comfort Zone with Andru Branch
Saturday, January 25th, 1997 : The Warehouse with Fishbone
Thursday, January 23rd, 1997 : Red Dog Tavern Peterborough with Tied To The Tracks
Monday, November 4th, 1996 : The Horseshoe Tavern
Friday, September 27th, 1996 : The Generator
Saturday, July 27th, 1996 : The Honey Pot
Saturday, June 8th, 1996 : El Mocambo
Friday, April 5th, 1996 : El Mocambo
Friday, October 7th, 1994 : The Opera House with Infinity
Thursday, June 23rd, 1994 : Classic Studios
Friday, June 10th, 1994 : The Shamrock
Saturday, May 8th, 1993 : Rock n Roll Challenge II at The Spectrum


23/09/22