Rock Search 2000 at Front 54 in Thorold
2000-05-18
Thursday May 18 2000
Rock Search at Front 54 in Thorold

Additional Acts: Puddy, Left Pencey, Easy Pistol, The Hellz Kitchen Show
Ticket Price: free at the door, $5 for underage, $2 to board the Zygote bus from Toronto to Thorold and back
Set List: Biz / Swimming In Chlorine / Two Tales / Meet Moot directly into Static with Metallica's "Master of Puppets" tease / Weather
Set Length: 25 minutes from 11:15 - 11:40
Rough Attendance: 400
Caught on tape? No audio, but TV Niagara captured the whole thing on video and we should have a copy of the tape soon
Poster: None
Notes: This was the great big 97.7 Rock Search 2000 showdown that narrowed the finest independent bands in Ontario down to five finalists to vie for this year's title as reigning champs. Zygote went in strong with huge fan support and gave it a heroic effort, but lack of sound check and the pressure of competition took their toll. When the dust settled, Zygote's less-than-perfect offering earned them a disappointing 3rd place. (Even with the mediocre performance I still think the band should've captured 2nd place, but hey, there's no accounting for taste.) We all take comfort in knowing that if Zygote had played a show that was up to their stellar live standard, they would have walked away with top honours. Every now and again a bad show sneaks through all the practice and preparation, and this time it just happened to be in front of a panel of judges. Bad timing, I guess.

Judging aside, the show wasn't actually as bad as I've made it out to be. The set was brief but powerful, consisting of Zygote's most sizzling fare. The nifty surprise of Meet Moot into Static was met with a roar of approval from the crowded floor, and Zygote's variegated set was a welcome change from the consistent middle-of-the-road radio poprock offered by most of the other bands. (1st-place band Puddy had a great night and showcased creative arrangements and tight musicianship. We tried to drum up some jealous hatred for them after they won, but the fact is that they're a bunch of decent guys who played a great show and deserved to win, damn them.)

All in all, it wasn't a great show and the experience was worsened by the quantification of the evening. The greatest redeeming factor of the night was Zygote's fans, who showed up by bus and car to lend support. By far the most numerous and vocal fans in the joint, they took the place over and you couldn't turn your head without seeing five or six people plastered with Zygote stickers. Very cool indeed.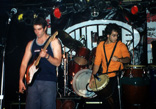 FAN COMMENTS
"what the fuck was up with that?" I think a good 2/3 of the crowd were certain you guys would win. nothing against Puddy, who I think is a good band and should have placed second, but you guys had that place rockin last night. hard to beleive that a BUSH COVER BAND came in second place two years running. apparently talent, originality and crowd response were not factors in the judging. Oh well, you were robbed but I still enjoyed the show and won myself a pair of tickets to see POISON - yippee!! please e-mail me back if you can find a Poison fan, I will sell the tickets for a case of beer. - WOODY
---
Friday, February 3rd, 2006 : Come In From The Cold at The Opera House
Friday, March 15th, 2002 : The Rivoli
Friday, March 1st, 2002 : Havoc in Hamilton VI at The Hudson
Wednesday, February 20th, 2002 : Rafter's Pub in Sudbury
Friday, February 8th, 2002 : Feel The Love: Pre-Valentine's Day Bash at The Opera House
Saturday, December 8th, 2001 : Call The Office in London
Friday, December 7th, 2001 : The Hudson in Hamilton
Saturday, November 24th, 2001 : Kool Haüs with Big Sugar
Friday, November 23rd, 2001 : The Trasheteria in Peterborough
Thursday, November 22nd, 2001 : The Foundation in Barrie
Thursday, November 8th, 2001 : The Shot in Kingston
Friday, November 2nd, 2001 : The Opera House with Choclair
Saturday, October 27th, 2001 : The Cage in Oakville
Friday, October 26th, 2001 : The Hudson in Hamilton
Friday, October 19th, 2001 : The Capitol Theatre
Saturday, September 8th, 2001 : The Opera House
Friday, August 10th, 2001 : Molson Amphitheatre with Dave Matthews Band
Saturday, July 28th, 2001 : The Hudson in Hamilton
Thursday, July 26th, 2001 : Club Abstract in Kitchener with See Spot Run
Saturday, July 21st, 2001 : Lees Palace
Friday, July 13th, 2001 : Woodstick Festival at Kee to Bala
Friday, July 6th, 2001 : Two Tales II at the Comfort Zone
Friday, June 8th, 2001 : NXNE at The Reverb
Friday, May 4th, 2001 : In Concert at The Warehouse
Friday, April 6th, 2001 : Federation Hall at U o f Waterloo
Saturday, February 17th, 2001 : Lees Palace
Friday, January 19th, 2001 : The Opera House
Saturday, January 13th, 2001 : The Embassy in London
Friday, January 12th, 2001 : The Hudson in Hamilton
Friday, November 17th, 2000 : Zygote Into The Fray at The Rivoli
Saturday, November 11th, 2000 : The Haunt in Ithaca NY
Friday, October 6th, 2000 : In Concert at The Opera House
Saturday, September 2nd, 2000 : Two Tales at The Rivoli
Saturday, July 29th, 2000 : The Rivoli
Sunday, July 16th, 2000 : Molson Indy
Saturday, June 17th, 2000 : The Rivoli
Thursday, June 8th, 2000 : NXNE 2000 at Clintons Tavern
Saturday, May 20th, 2000 : All Ages at The Comfort Zone
Thursday, May 18th, 2000 : Rock Search 2000 at Front 54 in Thorold
Friday, April 21st, 2000 : The Rivoli
Friday, April 21st, 2000 : La Luna in Hamilton
Sunday, March 26th, 2000 : Whiskey Joes in Hamilton with The Headstones
Friday, March 17th, 2000 : St Patricks Day Bash at The Rivoli
Thursday, March 2nd, 2000 : Canadian Music Week at The 360
Saturday, February 12th, 2000 : The Rivoli
Saturday, January 22nd, 2000 : The Hudson in Hamilton
Saturday, November 6th, 1999 : The Opera House with Wide Mouth Mason
Saturday, October 16th, 1999 : The Rivoli
Friday, September 3rd, 1999 : The Rivoli
Friday, July 23rd, 1999 : The Reverb
Saturday, June 26th, 1999 : The Rivoli CD Release
Friday, May 21st, 1999 : The Rivoli
Friday, April 30th, 1999 : The Rivoli
Thursday, April 15th, 1999 : The Reverb
Saturday, December 5th, 1998 : The Rivoli
Thursday, November 19th, 1998 : The Gordon Best Theatre Peterborough
Friday, October 9th, 1998 : The Comfort Zone
Friday, October 2nd, 1998 : The Horseshoe Tavern
Saturday, September 5th, 1998 : The Horseshoe Tavern
Saturday, July 11th, 1998 : The Comfort Zone
Saturday, May 30th, 1998 : The Regency Hotel
Friday, May 29th, 1998 : The Comfort Zone
Saturday, May 23rd, 1998 : The Opera House with The Headstones
Saturday, May 23rd, 1998 : The Big Bop
Thursday, May 14th, 1998 : Lees Palace with Humphat
Saturday, May 2nd, 1998 : The Comfort Zone
Saturday, April 18th, 1998 : El Mocambo Upstairs
Thursday, April 16th, 1998 : Unplugged at The Silver Dollar with Brian Gladstone
Friday, March 20th, 1998 : The Big Bop
Friday, February 6th, 1998 : The 360
Saturday, January 31st, 1998 : Call The Office London with Zuuls Evil Disco
Friday, October 31st, 1997 : Halloween at The Original Six Sports Bar
Friday, October 17th, 1997 : El Mocambo
Friday, June 6th, 1997 : The Generator w Ron Hawkins of Lowest of the Low
Friday, May 23rd, 1997 : The Comfort Zone
Friday, April 25th, 1997 : The Comfort Zone
Saturday, March 29th, 1997 : The 360 with Black Cabbage
Saturday, March 15th, 1997 : AE Pi Frat Party at The Reverb
Friday, January 31st, 1997 : The Comfort Zone with Andru Branch
Saturday, January 25th, 1997 : The Warehouse with Fishbone
Thursday, January 23rd, 1997 : Red Dog Tavern Peterborough with Tied To The Tracks
Monday, November 4th, 1996 : The Horseshoe Tavern
Friday, September 27th, 1996 : The Generator
Saturday, July 27th, 1996 : The Honey Pot
Saturday, June 8th, 1996 : El Mocambo
Friday, April 5th, 1996 : El Mocambo
Friday, October 7th, 1994 : The Opera House with Infinity
Thursday, June 23rd, 1994 : Classic Studios
Friday, June 10th, 1994 : The Shamrock
Saturday, May 8th, 1993 : Rock n Roll Challenge II at The Spectrum


23/09/22