Whiskey Joes in Hamilton with The Headstones
2000-03-26
Sunday March 26 2000
Whiskey Joe's in Hamilton with The Headstones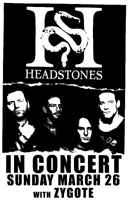 Additional Acts: none
Ticket Price:$25 at the door, tix available early
Set List: Biz (with Black Sabbath "War Pigs" tease) / Saturn / Nejuan / Swimming In Chlorine / Gratefully Nowhere / Kousharee (with Pink Floyd "Breathe" tease) / Weather
Set Length: 40 mins, from 10:30 - 11:10
Rough Attendance: over 200 when Zygote hit the stage, swelled to about 300 by the end of the set
Caught on tape? nope, but some still photos were taken by Josh
Poster: Whiskey Joes' Headstones poster
Notes: Your typical road gig, sweetened by the knowledge that we were opening for a well-established band and had no worries about whether a crowd would show up or not. The crowd was all about the Headstones, and a good chunk of it was made up of burly dudes dressed in varying degrees of black leather. Whiskey Joes is a bar & grill that actually turned out to have a respectable sound system and helpful staff. It took us a while to find the place though - it's actually in Stoney Creek, a few km out of Hamilton and you have to drive up a freakin' mountain to get there. Luckily we got there VERY early - like noon early. Killed most of the day knocking around a soccer ball behind the venue. (We went to buy it at a local Zellers and had security called on us when things got a bit rowdy in the sporting-goods section. At one point Soundman Steve lost control of a basketball which actually hit a pregnant woman - he swears that if her kid turns out to be a basketball star it's thanks to him.)

The show itself was pretty damn good. Shlag was in Mexico for this one, so the band seemed to be missing something, at least to the ears of the crew. Nobody in the audience seemed to realize, though, and by mid-set quite a few heads were bobbing and a good portion of the crowd gravitated closer to the stage for a better listen. Everyone in the band was pretty much on top of their game for this one, and although the drum kit was miked pretty poorly Brian managed to pound some decent volume out of his kit. Vocals were bang-on tonight, sweet harmonies and a stellar scream from Jeremy during Nejuan that turned a few heads on the people who weren't listening to the band and got them to pay attention for the rest of the set.

High points of the experience: First, the band pulled a decent response from a crowd who had no idea who they were. We didn't get a chance to do any promo on this one, so not a single soul in the room was there to see Zygote. Despite that, we sold a lot of albums and got a great response from the local crowd. Second, The Headstones. Cool guys. They could have been assholes, but instead they hung out with us a bit and shared some road stories. Very cool. Other than that the whole day was a satisfying road experience and the band kicked out the jams with a heavy set of precision tunes. Signed, sealed, delivered. We'll be back.


---
Friday, February 3rd, 2006 : Come In From The Cold at The Opera House
Friday, March 15th, 2002 : The Rivoli
Friday, March 1st, 2002 : Havoc in Hamilton VI at The Hudson
Wednesday, February 20th, 2002 : Rafter's Pub in Sudbury
Friday, February 8th, 2002 : Feel The Love: Pre-Valentine's Day Bash at The Opera House
Saturday, December 8th, 2001 : Call The Office in London
Friday, December 7th, 2001 : The Hudson in Hamilton
Saturday, November 24th, 2001 : Kool Haüs with Big Sugar
Friday, November 23rd, 2001 : The Trasheteria in Peterborough
Thursday, November 22nd, 2001 : The Foundation in Barrie
Thursday, November 8th, 2001 : The Shot in Kingston
Friday, November 2nd, 2001 : The Opera House with Choclair
Saturday, October 27th, 2001 : The Cage in Oakville
Friday, October 26th, 2001 : The Hudson in Hamilton
Friday, October 19th, 2001 : The Capitol Theatre
Saturday, September 8th, 2001 : The Opera House
Friday, August 10th, 2001 : Molson Amphitheatre with Dave Matthews Band
Saturday, July 28th, 2001 : The Hudson in Hamilton
Thursday, July 26th, 2001 : Club Abstract in Kitchener with See Spot Run
Saturday, July 21st, 2001 : Lees Palace
Friday, July 13th, 2001 : Woodstick Festival at Kee to Bala
Friday, July 6th, 2001 : Two Tales II at the Comfort Zone
Friday, June 8th, 2001 : NXNE at The Reverb
Friday, May 4th, 2001 : In Concert at The Warehouse
Friday, April 6th, 2001 : Federation Hall at U o f Waterloo
Saturday, February 17th, 2001 : Lees Palace
Friday, January 19th, 2001 : The Opera House
Saturday, January 13th, 2001 : The Embassy in London
Friday, January 12th, 2001 : The Hudson in Hamilton
Friday, November 17th, 2000 : Zygote Into The Fray at The Rivoli
Saturday, November 11th, 2000 : The Haunt in Ithaca NY
Friday, October 6th, 2000 : In Concert at The Opera House
Saturday, September 2nd, 2000 : Two Tales at The Rivoli
Saturday, July 29th, 2000 : The Rivoli
Sunday, July 16th, 2000 : Molson Indy
Saturday, June 17th, 2000 : The Rivoli
Thursday, June 8th, 2000 : NXNE 2000 at Clintons Tavern
Saturday, May 20th, 2000 : All Ages at The Comfort Zone
Thursday, May 18th, 2000 : Rock Search 2000 at Front 54 in Thorold
Friday, April 21st, 2000 : The Rivoli
Friday, April 21st, 2000 : La Luna in Hamilton
Sunday, March 26th, 2000 : Whiskey Joes in Hamilton with The Headstones
Friday, March 17th, 2000 : St Patricks Day Bash at The Rivoli
Thursday, March 2nd, 2000 : Canadian Music Week at The 360
Saturday, February 12th, 2000 : The Rivoli
Saturday, January 22nd, 2000 : The Hudson in Hamilton
Saturday, November 6th, 1999 : The Opera House with Wide Mouth Mason
Saturday, October 16th, 1999 : The Rivoli
Friday, September 3rd, 1999 : The Rivoli
Friday, July 23rd, 1999 : The Reverb
Saturday, June 26th, 1999 : The Rivoli CD Release
Friday, May 21st, 1999 : The Rivoli
Friday, April 30th, 1999 : The Rivoli
Thursday, April 15th, 1999 : The Reverb
Saturday, December 5th, 1998 : The Rivoli
Thursday, November 19th, 1998 : The Gordon Best Theatre Peterborough
Friday, October 9th, 1998 : The Comfort Zone
Friday, October 2nd, 1998 : The Horseshoe Tavern
Saturday, September 5th, 1998 : The Horseshoe Tavern
Saturday, July 11th, 1998 : The Comfort Zone
Saturday, May 30th, 1998 : The Regency Hotel
Friday, May 29th, 1998 : The Comfort Zone
Saturday, May 23rd, 1998 : The Opera House with The Headstones
Saturday, May 23rd, 1998 : The Big Bop
Thursday, May 14th, 1998 : Lees Palace with Humphat
Saturday, May 2nd, 1998 : The Comfort Zone
Saturday, April 18th, 1998 : El Mocambo Upstairs
Thursday, April 16th, 1998 : Unplugged at The Silver Dollar with Brian Gladstone
Friday, March 20th, 1998 : The Big Bop
Friday, February 6th, 1998 : The 360
Saturday, January 31st, 1998 : Call The Office London with Zuuls Evil Disco
Friday, October 31st, 1997 : Halloween at The Original Six Sports Bar
Friday, October 17th, 1997 : El Mocambo
Friday, June 6th, 1997 : The Generator w Ron Hawkins of Lowest of the Low
Friday, May 23rd, 1997 : The Comfort Zone
Friday, April 25th, 1997 : The Comfort Zone
Saturday, March 29th, 1997 : The 360 with Black Cabbage
Saturday, March 15th, 1997 : AE Pi Frat Party at The Reverb
Friday, January 31st, 1997 : The Comfort Zone with Andru Branch
Saturday, January 25th, 1997 : The Warehouse with Fishbone
Thursday, January 23rd, 1997 : Red Dog Tavern Peterborough with Tied To The Tracks
Monday, November 4th, 1996 : The Horseshoe Tavern
Friday, September 27th, 1996 : The Generator
Saturday, July 27th, 1996 : The Honey Pot
Saturday, June 8th, 1996 : El Mocambo
Friday, April 5th, 1996 : El Mocambo
Friday, October 7th, 1994 : The Opera House with Infinity
Thursday, June 23rd, 1994 : Classic Studios
Friday, June 10th, 1994 : The Shamrock
Saturday, May 8th, 1993 : Rock n Roll Challenge II at The Spectrum


23/09/22